Book review: The Click Moment, by Frans Johansson
Innovation will come if you harness 'complex forces' and embrace randomness. Andrew Davidson enjoys a pithy look at how to germinate great ideas.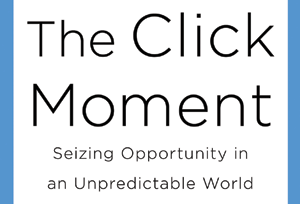 BOOK - The Click Moment: Seizing opportunity in an unpredictable world, by Frans Johansson
Here's a great new idea: get this book, it's really quite fun. Picking up from where he left off with his previous publication, The Medici Effect, Swedish-American academic Frans Johansson investigates the interplay between creativity, diversity and luck to find what lies behind the world's best innovations in this snappily titled tome. It is, like business academic Johansson himself - who is tall, tan, hunky, and the son of a Cherokee mother and Swedish father - not what you expect, and all the better for it, being ferociously anecdotal and never less than entertaining.
In that, he follows the current vogue for pulling business and popular culture together. The fall of Nokia, the rise of Viagra, the adaptability of Microsoft, the popularity of Angry Birds, the speed of fashion chain Zara, the invention of the burquini are deconstructed against the genesis of the Arab Spring, Stephenie Meyer's Twilight novels, Serena Williams's tennis success, Picasso's productivity, the Lost TV series, the Little Lebowski shop in New York, the Rubik's Cube, even how to win at scissors-paper-stone, a game so random you can't strategise - or can you? Who knew that starting with stone was the best opening gambit? Unless your opponent has read this too...