Book review: Cognitive Surplus, by Clay Shirky
How can individuals be persuaded to join worthwhile online communities? Chris Bilton enjoys this pragmatic guide.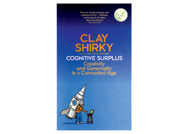 Cognitive Surplus: Creativity and generosity in a connected age
Clay Shirky
Allen Lane £20.00
How many of the hours we spend surfing websites and posting blogs actually amount to time well spent? For Clay Shirky, social networking is both a massive waste of time - the 21st-century equivalent of watching bad TV - and a potential source of community, creativity and civic value. In his latest book, his aim is to show how our 'cognitive surplus' (all that time spent looking at 'funny' YouTube videos) can be converted into something useful.
Virtual communities and social networking are not new phenomena. Shirky's central assumption - that we have an unprecedented surplus of 'free time' - is not entirely convincing; multi-tasking, home-working and BlackBerries might equally push us into a cognitive deficit. What makes this book interesting is his analysis of the motives that draw individuals into new forms of collective action. Its focus is not so much our cognitive surplus as the seemingly irrational 'generosity' that underpins it.