Book review: Double Entry, by Jane Gleeson-White
A well-told study of the birth of accountancy in 15th-century Venice that veers off into an attack on the modern profession doesn't quite add up for Luke Johnson.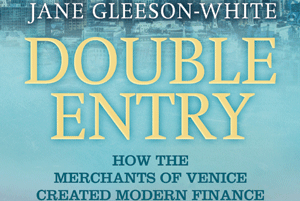 I initially encountered doubleentry bookkeeping dozing at the back of a City of London Poly classroom at night school almost 30 years ago. I stayed awake enough to just about grasp the concept, realising its importance to business and our very way of life. In fact, everyone would benefit by learning the principles of accounting at an earlier age: I strongly believe it should be a compulsory subject in secondary schools.
Now Jane Gleeson-White has written a well-researched history of the idea. She has taken what for most would be a dull subject and made it relevant and readable. As someone who spends perhaps too much of his life studying financial statements, I enjoyed discovering how the system we use to compile and interpret them came about.
The author reminds us that history matters, even that of 'mundane professions', because they 'increasingly run the capitalist world'. I suspect very few qualified accountants have any idea when and where techniques such as 'trial balance' originated. Reading this book would enable them to put their work into context. They will be reminded that recording commercial transactions in a systematic manner facilitated the development of capitalism and the modern world.