Book review: Economics of Enough, by Diane Coyle
This book explores new approaches to economics and, while it offers some useful perspectives, it doesn't entirely meet the challenges it sets itself.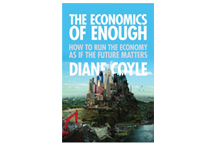 Economy is a fascinating word. It is rooted in the Greek oikos, which means the home. Think of home economics and you'll remember this. It is also the root of ecology, which speaks to us of sustainability and the future. So I was excited to receive a copy of Diane Coyle's new book, The Economics of Enough; for me a title that promises to re-unite the deep-rooted meaning of economy with ecology.
The book opens with a story from the dark days of the banking crisis in October 2008, when, as we have since discovered, the global financial system almost completely seized up, to the point when ATMs were nearly shut down. Coyle herself admits to withdrawing her cash maximum on a daily basis until the scale of the crisis became clearer. We are then taken on a journey that knocks on some increasingly familiar doors, including chapters on happiness, nature and trust.
Then we return to more traditional territory in terms of the government and corporate institutions that have historically 'managed' (or failed to manage) the world's economies. We visit issues of measurement and values and then, quite rightly, Coyle outlines a solution - a 'manifesto of enough'.