Book review: Good Strategy/Bad Strategy, by Richard Rumelt
Too many people in business mistake what it is and what it should be. They ought to read this book...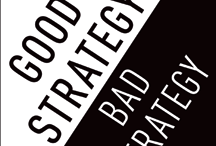 Most business leaders would agree that the right strategy, executed well is the basis of success. But in many organisations there is no clear consensus as to what strategy really means, or how to go about its formulation. Professor Rumelt, who has spent nearly 40 years studying the issue, has come up with a convincing and crisply written proposition.
John Maynard Keynes famously observed: 'Practical men, who believe themselves to be quite exempt from any intellectual influence, are usually the slaves of some defunct economist.' Such a fate, of quietly informing future generations of pragmatic business leaders, may well fall, in time, to Richard Rumelt. Although for now he and his ideas are far from defunct. His book represents the latest thinking in strategy and is peppered with many current real world examples. Good Strategy/Bad Strategy has much to offer and has every chance of becoming a business classic.
The overblown language of many management books makes them hard going. Good Strategy/Bad Strategy is an enjoyable exception. The book is easy to read and one of the best ways to convey its flavour is to let it speak for itself with a few quotes. The book argues that the notion of strategy has become much misunderstood: Simply being ambitious is not a strategy ... 'for many people in business, education and government the word "strategy" has become a verbal tic. A word that can mean anything has lost its bite.'
In terms of what strategy actually is, Professor Rumelt offers a simple definition. A good strategy does more than just urge us forward ... it honestly acknowledges the challenges being faced and provides an approach to overcoming them.