Book review: Great by choice, by Jim Collins & Morten T Hansen
Greatness comes from consistency rather than innovation, argue the authors. Philip Delves Broughton is intrigued.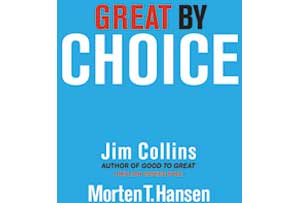 What are the causes of success? Is it luck or talent? Is it genius or hard work? Is it creativity or plain diligence? Jim Collins, the veteran author of Good to Great, and Morten Hansen believe that it comes down to control and discipline in the face of inevitable change. Luck, both good and bad, will befall us, circumstance will be as fickle as the weather. But if we put our heads down, we can thrive.
Their book starts with a definition of what the authors call '10X' companies, those that outperform their industry averages by at least 10 times. These companies display three fundamental and distinctive behaviours: 'fanatic discipline' and 'monomaniacal' focus on achieving their goals; 'empirical creativity', an obsession with facts rather than opinion and a readiness to ignore conventional wisdom once armed with these facts; and 'productive paranoia', constant worry which fuels relentless preparation and precautions against even the most improbable bad events.
They draw on examples from business and beyond to illustrate 10Xers at work, such as Amundsen and Scott's race to the South Pole. While Scott took a relaxed, cavalier approach to his expedition, Amundsen prepared for every eventuality, even eating raw dolphin meat to see if it could provide a decent energy supply. He loaded up with far more supplies than Scott to serve a much smaller team. And, tellingly, for Collins and Hansen, Scott took just one thermometer, which disastrously broke, whereas Amundsen brought four.
Amundsen reached the pole more than a month before Scott and made it back alive. 'Amundsen and Scott achieved dramatically different outcomes,' Collins and Hansen write, 'because they displayed very different behaviours.'