Book review: Hacking Work, by Bill Jensen and Josh Klein
While this book encourages you to think you're smarter than your boss, it ain't necessarily so, says our mystery entrepreneur.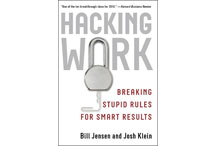 Hacking Work is not, you may be disappointed to learn, about ways to adjust your company's payroll to put another nought on the end of your salary. It is, the authors grandly proclaim, about 'forbidden innovation' - finding ways to get stuff done at work by 'exploiting loopholes and creating work-arounds'. This covers everything from soft hacks, where you make subtle changes to your working relationships, to hard hacks, where you might re-engineer an entire process.
As someone who got so sick of corporate life that I left to start my own business, I thought I'd like this book. Its premise is a compelling one: big companies have a lot of stupid rules, systems and processes which actually make your life more difficult; and, rather than sitting around bitching, you're better off finding a solution, even if it means bending the rules. For any entrepreneur who prides him or herself on solving problems more efficiently than bigger competitors that will definitely ring true.
But somehow the book left me a bit cold. It's partly the all-pervading cheesy Americanism ('There's really one commandment: Be Cool', it says at one point. Pass the bucket). It's partly the slavish promotion of free online resources - some of it sounds like it could have been written by Google's press office. And it's partly that it seems to have been written for people with no attention span whatsoever - every page is broken up by quotes, bullet points, aide-memoires and box-outs. I suppose that's helpful if you're dipping in and out of it (or if you've got ADHD), but if you're trying to read it in chunks, it's incredibly irritating.