Book review: The Icarus Deception, by Seth Godin
In the connected economy, it's the initiators and rebels who will be the high-flyers. Tomas Chamorro-Premuzic applauds a smart and witty challenge to the status quo.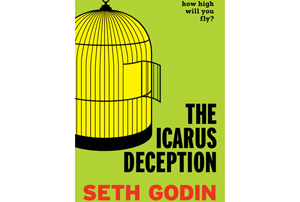 Book: The Icarus Deception: How high will you fly?
Author: Seth Godin
Publisher: Portfolio, £12.99
About a decade ago, I was introduced to Seth Godin's work by one of my students, who noted that our subversive ideas (eg, on marketing, education and culture) overlapped substantially. He was right. What this polite student did not say is that they are expressed so much more compellingly and effectively by Godin. Indeed, the joy of discovering a great new author was quickly offset against the jealousy of discovering this smarter, wittier, and more cynical version of me. You should interpret this as a 'reviewer disclaimer'; it may explain both the positive and negative comments below.
The Icarus Deception is Godin's first full-on intrusion into the management world, combined with a somewhat more ambivalent, albeit not timid (this is Godin, after all) attempt at a self-help book.
The book is named after the Greek myth of the disobedient Icarus, the son of the great craftsman Daedalus. As the story goes, Daedalus and Icarus were sent to prison for sabotaging the work of the king, but Daedalus came up with an escape plan: he furnished himself and Icarus with wings. The wings were made of wax, so Daedalus warned Icarus to avoid flying too close to the sun. Daedalus disobeyed and flew too high; his wings melted and he died, tumbling into the sea. Thou shalt not disobey? Not really...