Book review: One Click, by Richard L Brandt
In 2000, Amazon was the biggest money-loser on the internet; now it's worth $80bn. Roger Parry enjoys an account of founder Jeff Bezos's astonishing story.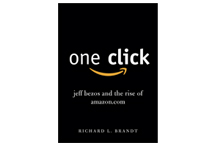 Imagine the deprivations of a home that lacked electricity and a telephone. But go back a few generations and this was the typical household. The inventions of Edison and Bell have changed the way we live.
As I write this, I have just helped move my son into a college room in Philadelphia - no easy logistical feat if you live in England - but the magic of Amazon.com transformed the experience. Every conceivable student requirement was available from its website. On move-in day, neat cardboard boxes arrived - containing pillows, bed linen, lamps, towels, tools, office supplies, coat hangers, electronics and, of course, cut-price books. It all turned up within 48 hours of being ordered from thousands of miles away. How did this happen so fast? And does it make Jeff Bezos, Amazon's founder, the Edison or Bell of today? The answers come in Richard Brandt's enjoyable book, One Click.
Bezos is the geek made good. As a Texas schoolboy he was considered clever; as a university student he was brilliant. Getting into Princeton for computer science was an achievement - but to emerge summa cum laude (passing in the top 3%) marks an unusual academic talent.