Book review: The Party, by Richard McGregor
Hopes that prosperity and the web will release the communist grip on China are premature, says Howard Davies.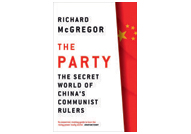 The Party: The secret world of China's communist rulers
Richard McGregor
Allen Lane £25.00
At the end of his lively The Penguin History of Modern China, Jonathan Fenby describes the People's Republic as 'an authoritarian state which increasingly lacks authority, an empire without an emperor'. The conclusion of Richard McGregor's book is rather different: 'In the absence of democratic elections and open debate, it is impossible to judge popular support for the party. But it is indisputable that support for the party has grown since Mao's death.'
Who is right? It is one of the most important questions in international relations today. Is the Chinese regime riding for a fall or can it adapt? The arguments for the 'fall' hypothesis are that no country in recent times has been able to combine the economic freedom the Chinese now enjoy - in particular the freedom to get rich - with such tight control on political activity.