Book Review: Ready? The 3 Rs of Preparing Your Organisation for the Future
This is no reading, writing and 'rithmetic, says Alastair Dryburgh. This is a call for fundamental changes to how business leaders think.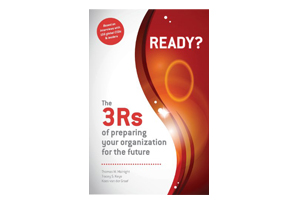 Book: Ready? The 3Rs of preparing your organisation for the future
Authors: Thomas Malnight, Tracey Keys and Kees van der Graaf
Publisher: Strategy Dynamics Global, £9.99
This book works on three different levels. At the first level it's a book about strategy, and about how to adapt to the future. At the next level, it's an argument for a rethink about the role and obligations of business in the world. And more profoundly again, it is a call for some fundamental changes not just in what leaders think about, but the ways in which they think. This is quite an ambition for one quite short book, but the authors pull off the trick very well. From interviews with 156 CEOs they extract all three themes and weave them together to make a compelling argument, and also pose some uncomfortable questions.

The three Rs in question are not the traditional reading, writing and 'rithmetic. They are instead rethink your playing field, redefine your ambition and reshape how you work. As a book about strategy, it is rich in stimulating stories and prompts for further investigation. Its scope is truly global, and for readers in the UK or elsewhere in the 'developed' world, some facts about 'emerging' economies will be startling. While US or European companies are busy trimming costs, consolidating mature markets and trying to squeeze out single-percentage-point growth, there are those in emerging markets who are facing the challenge of increasing the size of their businesses by ten times over ten years, or doubling in size in two or three years. The authors argue with the terminology of 'developing world', arguing that it leads many western companies to underestimate the potential or sophistication of these markets.

A perfect example of this is Kodak. In the 1990s it took a big bet on China, assuming that the evolution of the market would follow the pattern of the US, hobbyists starting with film cameras before moving to digital. Not surprisingly, the Chinese took a different view and moved straight to digital. This is just one example of a quite common delusion, that emerging economies can be a convenient new market for old products.

Beyond this, the authors convey a powerful sense of how the world is becoming more complex. Your competitors are not who they used to be, your customers want different things from those they used to want. As they put it, 'rethinking your playing field isn't about thinking outside the box, it is about throwing away the boxes altogether'. You may feel that here they are exaggerating for effect, but I'd suggest that you ignore the point at your peril.

At the second level, that of the role of business in society, the authors take a pretty uncompromising line. The idea that business just needs to concentrate on making money while staying within the law was, they argue, 'always morally and ethically wrong'. Now, however, 'it is fast becoming a very bad idea strategically, too'. The authors argue that firms need to go beyond 'shaping activities to ensure permissibility' to 'aligning the company's core purpose with societal needs'.
'The market cares, people care. They want you to be socially responsible or they will dismiss you as a legitimate company,' says the chairman emeritus of Ogilvy & Mather.

It is at the third level, that of leadership thinking, that things get really interesting, and also a little uncomfortable. The authors deplore, as so many others have, the short term focus imposed by the capital markets. But they don't let leaders blame their short-termism on the markets. There are things that leaders can do, must do, to deal better with the longer term. The investment analysts' short term focus may be deplorable, but for many leaders it is also comfortable. They are very good at dealing with the short term. 'They are not caught in a trap: they are in their comfort zone.' It's the longer timescales that make them feel uncomfortable.
The point is well summed up by Lord Simon, former CEO of BP: 'Business people find it quite hard to intellectualize or contextualize issues over a five to ten year period. They're pretty good over three years, but moving beyond that is tough. But a lot of the changes that businesses need to make take longer than three years to prepare.'

Here is the real point of the book, lurking under everything else. Short-termism and over-simplification of the world into traditional boxes are not dysfunctions imposed by others or the result of sloppy thinking. They in fact constitute the 'executive comfort zone'. The interviewees in this study made up a minority who denied this, and a majority who recognised the issue but were still seeking ways of dealing with it.

I suggest you start this search, if you haven't already. The book offers a fascinating collection of stories and points of view with a vitally important underlying them. Read it, and reflect on what it means for you. If it makes you a little uncomfortable in places, be happy. If it doesn't, you have missed the point.

- Alastair Dryburgh is chief contrarian at Akenhurst Consultants