Book review: The Shift, by Lynda Gratton
The menu may be a little hit-and-miss at times but there's plenty of nourishment in this three-course analysis of the changing workplace.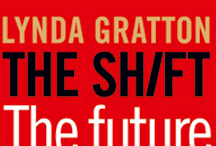 Lynda Gratton, professor of management practice at London Business School, is one of those authors who lays out her books like a table plan for readers, who must understand exactly where they're supposed to be sitting, even if they've been placed rather inconveniently next to the auntie who never approves of the way they dress and always buys them talc for their birthdays.
You don't get to choose in a Gratton book. The choices are made for you. You're embraced at the door and yanked across the hall to meet a carefully selected cast of characters - the big corporate suits, placed strategically among various relatives, historical figures and surprise guests such as the cookery writers Elizabeth David and Julia Child, who both feature here.
The conversation is breathless, directed and assured because Gratton is so confident a host that anything less than blind obedience to her argument would seem impertinent. We're told without fear of contradiction that the world will be shaped by five forces in future: technology; globalisation; society; energy resources; demography and longevity (for those who wonder if the author has lost count, the last two are listed as a single force).
I wouldn't quibble too much with the place settings though, except to question whether society is a force. Surely, like the way we work, society is something that is shaped by various forces such as education, legislation, equality of opportunity and politics, to name a few. But five forces, six forces, who cares? - as long as those chosen have broad enough shoulders, and that seems to be the case here.