Book review: The Spirit of the Game, by Mihir Bose
The commercialisation of events like the Olympics doesn't mean they have sold their soul. Christopher Satterthwaite enjoys an account of the global rise of games.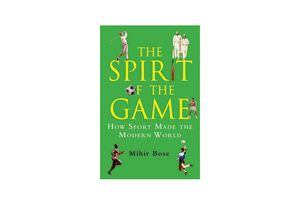 The subtitle of Mihir Bose's book is 'How sport made the modern world'. It's the sort of extravagant claim one might expect a 25 year-old describing the impact of social media to use, rather than one of our most respected sports writers. There are 750 million users of Facebook and growing. Its population is the third biggest in the world after China (1.4 billion) and India (1.2 billion). However, the statistics of sport outscore Facebook by a mile.
Four billion people will watch the opening of the 2012 Olympic Games. Three billion people watch the Barclays Premiership annually. The Olympics' audience, as a population, would be greater than that of the biggest 10 countries in the world. So, what is the best way to manage such a global force? Nearly 40% of sport revenues come from sponsorship, which was valued in 2010 at $35bn by PWC. These are the facts of modern sport but not where it started.
'Don't let facts get in the way of good history,' I was once advised by the great historian VHH Green, and The Spirit of the Game doesn't allow that to happen. It is full of salient facts but also shows how sport has developed globally through a blend of design and accident. This makes it a sparkling and illuminating read - reassuringly so when accident wins out against design.
Isn't it well known that modern sport was born on the playing fields of Victorian public schools and inspired by Thomas Arnold, headmaster of Rugby School? Well no. In all the books, pamphlets and sermons written by Arnold between 1829 and 1842, not one makes a single reference to sport. It was fiction that dictated the adoption of British sport, through Thomas Hughes' Tom Brown's School Days, which popularised it first in Britain and then in the Empire. As Bose suggests, 'the novel's success came from presenting an alluring vision of eternal boyhood'.