Book review: Steve Jobs: The exclusive biography
Steve Jobs gets a biography that's worthy of him in this unsparing portrait of a genius who was instrumental in creating the digital age. Rory Cellan-Jones was enthralled.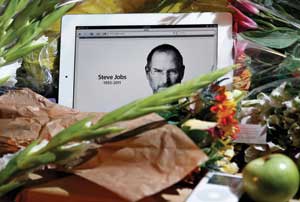 Within hours of Steve Jobs's death in October, impromptu shrines began to appear outside Apple Stores - flowers, half-eaten apples and iPhones and iPads with images of flickering candles. The man whose company had always attracted a cult following was fast becoming a saint. But, no more than a day later, the backlash began. Jobs was not a saint or even a genius, just, in the words of AN Wilson, 'a clever backroom boy who got lucky'.
What Walter Isaacson's masterful biography reveals is that both the true believers and the cynics got Jobs wrong. In a warts-and-all portrait that continually had this reader recoiling in disgust at the petulant pioneer's behaviour, he shows that Apple's co-founder was very far from being a saint.
As a teenager, he browbeats his kindly parents into sending him to a college they cannot afford - then drops out after a year. After teaming up with the brilliant but naive engineer Steve Wozniak he cheats him out of his share of a bonus they get for designing a game. 'Ethics matter to me,' the always tolerant Wozniak tells the author, 'but, you know, people are different.'
And as a tyrannical leader, he is either screaming at Apple staff about their appalling inadequacies or stealing their ideas and taking the credit for them before an adoring public.