Book review: Thinking, Fast and Slow, by Daniel Kahneman
In trying to help us understand how we make choices, the author falls between two stools: too chatty for academics, too dense for amateurs, says Andrew Davidson.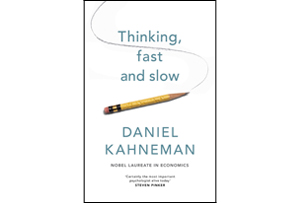 Presumably, the phone call from Daniel Kahneman's publisher went something like this: 'Hi, Daniel, we're always on the look-out for big-brain books with popular appeal on why things happen, you are a veteran psychologist who famously won the 2002 Nobel Prize for economics - imagine that! It should go to economists - and you're a whizz on decision-making and risk, so how about writing an easy-read overview of your life's work, explaining as chattily as possible, er, why things happen, studded with a few anecdotes about the frisbees you've thrown with well-known academics across American and Israeli campuses over your 77 years ...?'
And so here it is, Thinking, Fast and Slow, a title that immediately made me think about the Slow Food movement in Italy and then, over 481 pages, just perplexed me.
It's an odd book, garlanded with praise from bestselling thinkers Stephen Pinker, Steven Levitt and Richard Thaler and puffed by Nicholas Taleb (The Black Swan author) as 'a landmark book in social thought, in the same league as The Wealth of Nations by Adam Smith and The Interpretation of Dreams by Sigmund Freud'.