Book review: Tough Calls, by Allan Leighton
Swashbuckling stints at the top of Asda and the Royal Mail proved the worth of Allan Leighton's down-to-earth gifts. We need more like him, says Tim Waterstone.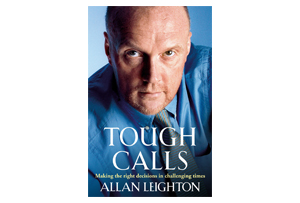 The peak of Allan Leighton's career was for many of us the astonishing turnaround he and his colleagues achieved at Asda in the 1990s. Archie Norman was the true leader of the executive gang, intellectually above all, until he became chairman in 1996. But Leighton absolutely held his place beside him, as a visionary. And a motivator, too.
Much of his triumphant Asda period stemmed from what he learnt from the extraordinary Mars brothers in his early career - 'flying economy, hiring a car, and inspecting a factory without warning before management arrived, talking to workers to get a sense of what was going on'. This became the essence of Leighton's style - in the good sense that he maintained a strong rapport with workers, and in the bad sense perhaps that he became a great one for busting in ahead of his executive subordinates.
We read that the greatest influence on Leighton's career was the Walmart story. For years he studied Walmart's culture, obsessively so. 'If you love your work,' said Sam Walton, founder of Walmart, 'you will be out there every day trying to do it the best way you possibly can, and pretty soon everybody around you will catch the passion from you - like a fever.' That could be Leighton himself. He he was out there every day, biffing away with the store staff and - yes - pretty soon everybody around him caught the passion from him.