Book review: Uprising, by George Magnus
Uprising takes a cautious and sceptical view of the future of the Chinese economic miracle, but Howard Davies would still be minded to have a punt out east.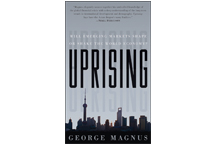 Books on China, and especially on the Chinese economy, come thick and fast these days. Uprising, in spite of its subtitle referring generally to emerging markets, is essentially one of those. So the time-poor reader struggling to choose between this and Wayne Rooney's autobiography for her commute, needs the answer to two questions. What is the author's comparative advantage: his USP, in the language of marketing? And where's the beef? In other words, what is his distinctive point of view?
As for the first question, Magnus writes from the perspective of an economic adviser to an investment bank - UBS, as it happens. So while he focuses much of his attention on politics and the macroeconomy, he is also interested in the implications for investment strategy. Is it smart to place a heavy bet on the growing dominance of Chinese companies or will they struggle to succeed against global competition? There are many other books which would tell you more about the Communist party or the residual influence of Confucianism. You pays your money and you takes your choice.
Uprising is, however, distinctive in the somewhat sceptical position it takes on the China miracle. For the most part, George Magnus is not an enthusiast of the straight-line extrapolations so beloved of the BRIC-makers of Goldman Sachs. He does not regard the relentless rise of China as inevitable. He believes there are many factors to be taken into account other than investment and savings rates, which in the past have explained the relative wealth and influence of countries. He points to the example of Japan, which in the 1980s was said to be about to conquer the globe.