Book review: Value-based pricing, by Harry Macdivitt and Mike Wilkinson
While the authors have an academic grasp of their subject, they don't give emotional factors their due, says Alastair Dryburgh.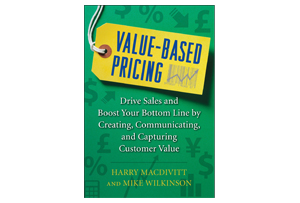 In these times of economic stringency, it becomes more and more important, and at the same time harder and harder, to resist pricing pressure from customers. Yet there is no alternative; most firms are not, and cannot become, the lowest cost producers in their industries and so cannot prosper in an environment where customers have the upper hand and use their power to drive prices ever lower. This book on value-based pricing is therefore timely.
The message is that, when we set prices, we should focus not on our costs or on what our competitors are doing but on the value that our customers perceive in our offering. We are offered a systematic way of thinking about what this is, and reminded that if we wish to be rewarded for this value we need to offer something distinctive.
The authors then move on to look in more detail at how we estimate value and present a range of pricing strategies for capturing as much of that value as we can. This is comprehensive, within the limits of the quantifiable and the objective.