Book review: The Wide Lens, by Ron Adner
The devil may be in the detail, but successful innovators keep their eye on the big picture, too. Charlie Dawson buys in.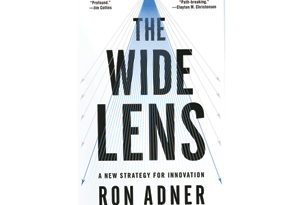 I approached Ron Adner's The Wide Lens nervously. I have never reviewed a book before and one of my worries was about who I was doing this for. Most obviously, it's for you, the reader, although I don't know if you're an MT enthusiast, a Ron Adner fan or a casual browser. It's for MT, with a reputation to sustain. It's for Adner himself, who says he spent more than 10 years working on his book. Yikes - you don't lightly criticise a decade of thinking. And it's also, to be frank, for my business and me, as we look to demonstrate qualities that might help our own profile as we go about our innovation work.
This kind of muddled web is exactly what the book is about - an innovation ecosystem, to give it its more professional name.
It sets out to make a single point. Good companies can do excellent innovation work, identifying customer needs and responding with well-executed products and services, and yet still fail. The reason is that sometimes success depends on changing the way a market works, not launching into one that's ready and waiting.
We all know the VHS/Betamax story. The better technical solution lost because customers wanted to watch something good on telly. The winning team thought about film studios, which were out of their control but relevant. The losers perfected the bit that was theirs, essentially video reproduction.