This book will make you respect the humble chicken
Now just seen as a cheap source of protein, the chicken is given the reverence it deserves in Why Did the Chicken Cross the World? - a fascinating history of a bird that has been crucial to civilisation.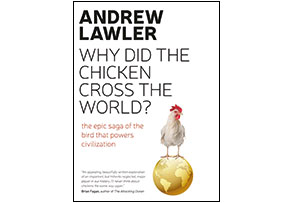 The answer to the question that is the title of Andrew Lawler's book is given early. On page four to be exact. 'The chicken crossed the world because we took it with us, a journey that began thousands of years ago in Southeast Asia and required human help every step of the way.'
But don't stop reading there. Lawler's meticulously researched exploration reveals our relationship with the bird the human race enslaved; from the days when we revered the chicken as a sacred symbol of light, truth and resurrection to the now, where chickens have become invisible, hidden behind the fences that guard the factory farms they inhabit.
Cheap protein. In today's terms, that is all most chickens are worth. We took a bird from the jungle, domesticated it, valued and honoured it for centuries, then downgraded it to form the guts of nuggets.