Books: Future Work, by Alison Maitland and Peter Thomson
Flexible working is seen as a perk, but in fact it's a major boost to efficiency, say the authors. Henry Stewart agrees.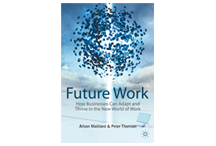 Does your company offer reduced hours, flexible start and finish times and compressed weeks - possibly adding time off for a school event or even massages at work? In that case, your HR department may be very proud but, in the view of the book's authors, your company is merely 'tinkering at the edges'.
Companies truly ready for the future have put in place the technology to enable their employees to work anywhere. They have abolished traditional ideas of working hours and set holiday allowances. Instead staff can work how they like as long as they meet their objectives and the needs of their customers.
This is the argument put by the two authors. Alison Maitland is a former FT journalist and a senior visiting fellow at Cass Business School. Peter Thomson was an HR professional and is a regular business speaker and a visiting executive fellow at Henley Business School. And the authors' excellent connections produce a range of corporate stories from around the globe which is a strength of the book.