Books Q&A: John Kotter on Buy-in
MT meets business professor and all-round change guru John Kotter to talk about his new book, Buy-in.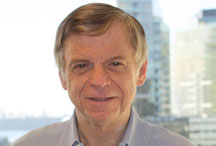 MT: You've been writing about change for a long time. Is the subject more important now than ever?
JK: All kinds of indications are that the rate of change is going up and up, and there's no data suggesting it's going to level off anytime soon. So if an organisation is to flourish, it will need to make bigger changes, more often. Which would be all well and good if everyone had cracked the code. But according to a recent study of companies attempting large-scale change, 70% of efforts made fail in some way; 20% do ok; but only 5% meet the needs of the organisation. These are horrible stats, and don't serve anyone well.

Aren't we getting any better at it?
Yes, but the challenge is getting bigger at the same time. So the distance between where we are and where we need to be is not really shrinking. There's an increasing need for bigger leaps, and companies are terrible at those. They haven't learned that the methodology for smaller leaps doesn't work when you head into the danger zone, and consequently they make leaps poorly.

You seem to think there's no shortage of good ideas?
There are a huge number of good ideas, but many of them sit with people who have learned through tortuous experience that if they throw their idea up, it'll just end up riddled with bullet holes. After a while they start to ask why they should bother. Life is short, so they just shut up and go for the easy life. There are a huge number of ideas lying dormant thanks to such painful experiences. It's frustrating – it makes you want to throw the furniture against the wall.

Why do you use the story format in the new book?
Research on the brain shows we're hardwired for stories, not for PowerPoint presentations. That said, I did a fable a few years back at Harvard, and they thought it was the dumbest thing they'd ever heard in their lives. But at this point in my life I don't care any more. So when the idea came up to do a book that was half story, half analytical description, we figured people would both understand it and find it memorable.

The book's presumably not just aimed just at leaders?
I'd love it if a 20-year-old was a lot more empowered to make a difference while they still have lots of interesting new ideas and haven't been ground down by the system. But at the top of organisations, while some people intuitively understand this stuff, even they often can't articulate it. And that means they can't teach other people.

Hank is an interesting character. Do you meet a lot of corporate leaders like him?
Unfortunately not. And even if you do have someone with the instincts and capacity for knowledge that Hank has, the probability of him being surrounded by others with the same capacity is about zip.

Does corporate culture mitigate against these kinds of qualities coming to the fore?
It can definitely get in the way. You have to become politically smart (in a positive sense), and to know the power games that are going on. But you have to be very careful about putting things out and being shot down in public - that can reduce your credibility, and people will think you're weak. So they often abandon that course for a 'let's smoothly manipulate behind the scenes to keep nay-sayers away until we can slip something through' approach.

If people are desperate to get to the next higher job, because they're driven by a super-competitive culture, this can get to the point where it becomes almost impossible to do anything, under any circumstances. You've always got someone thinking they'll lose points if they support a particular person. But that's deadly: while you're busy collecting points or stopping others getting them, the world moves faster. And you need new smart ideas brought to life.

What's the most common attack on a new idea?
The most fundamental form of sabotage is: 'We've been pretty successful, let's not screw things up'. What's astonishing is that this approach is even used in organisations where you as an outsider would think 'you're kidding... you guys have been losing it for so many years'. To them success is like keeping on a piece of wood that's 3ft wide, with nothing but an abyss on both sides – they have to keep walking straight ahead, even if the competition has now run 10 miles ahead. Why would such a company take a risk with this brand new thing?

John Kotter's new book, Buy-in (co-authored with Lorne Whitehead) is out now, published by Harvard Business Review Press. Buy it now in the MT Bookstore...