Books Special: Employees First, Customers Second, by Vineet Nayar
The author argues that by giving more power to your front-line staff, you can revolutionise your business...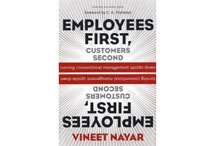 If you managed to get away on holiday this summer, you may have missed the release of Vineet Nayar's book 'Employees First, Customer Second'. That would be a shame – because the author, who runs Indian IT services business HCL Technologies, has some very interesting ideas about how organisations can transform their effectiveness. In his view, it's all about taking power away from your senior management, and devolving it to your front-line staff...

In his book (subtitled 'Turning conventional management upside down'), Nayar talks about his own experiences at the helm of HCL. When he took over as CEO in 2005, HCL was already a big player in Indian IT services – 30,000 employees, revenues of $700m, an annual growth rate of about 30%. But Nayar worried that HCL was growing more slowly than the industry leaders, losing market share in the process, and decided drastic action was required. Five years later, the company's doing about $2.5bn in revenue, and was recently described by Fortune as having the world's most modern management. Anyone who can bring about an organisational change like that is worth listening to.

The central thesis of the book, as you may have guessed from the title, is that the company needs to stop obsessing about customers and start putting its employees first instead – specifically those in the 'value zone', i.e. the ones who interact with your customers. By changing the culture so you find better ways of listening to and helping these people, Nayar argues that you can create and deliver far more value to your customers (so despite being relegated to second place, the latter end up winning out in the end).

There are basically four stages to the process, Nayar suggests (though they don't have to happen consecutively). He calls the first 'Mirror Mirror': this means basically asking the whole company to take a long hard look at itself and work out where the problems lie. This needs to happen at the start of the process, but it needs to keep happening thereafter too.

The next step is to create the trust required to make change happen. At HCL, Nayar felt staff didn't trust the management (undoubtedly true of many companies, particularly these days). So he addressed this by increasing transparency in a big way: he decided to let everyone see financial performance data for every single business unit in the company. Despite the drawbacks – embarrassment for the low performers, leaks to the press, and so on – he argues that this added an element of competition that spurred units on to greater heights, and increased the accountability of managers. Importantly, it also persuaded staff he was serious about transparency.

The third – and perhaps most radical step – he calls 'inverting the organisational pyramid'. What this means in practice is making managers accountable to those employees in the value zone, rather than vice-versa – their worth is measured based on how well they facilitate client value creation. This doesn't just give managers a kick up the backside, but it makes staff more engaged too.

The final step in Nayar's organisational change was about re-casting his own role, that of the CEO. To aid transparency, Nayar created an online portal where staff could ask him questions directly. Inevitably, this prompted lots of gripes, but more significantly, Nayar decided it was encouraging the wrong behaviours: employees were looking upwards for answers (or reassurance), rather than taking responsibility themselves. So he added a section called 'My problems', where he encouraged staff to talk about how to solve the company's challenges. That changed the focus from him to them.

You'll note from the above that this is very much a personal account of what Nayar's done at HCL. And arguably, his model is best suited to the business service sector; when your people are effectively your competitive advantage, it makes sense to base your strategy around them.

But this book has an interesting take on some of the key trends currently affecting the business world: the rise of online social networks, the value of greater transparency, the flattening of management hierarchies... It's also relatively cheap and simple to implement, which has a lot to be said for it in these straitened times: Nayar is very keen on small catalysts that make a big difference. And by reducing the focus on the CEO as a leader, there's a better chance of these changes taking root in the long term, after the current boss has gone.

Management guru Tom Peters is certainly convinced; the sleeve notes report that he's 'on the verge of declaring that Nayar could be the next Peter Drucker'. Praise indeed. Nayar himself (who's a fairly genial unassuming sort, as CEOs go) would probably shy away from that kind of bombast. But we can't help feeling he may be on to something here.