Books Special: MT meets Sir Ronald Cohen
The former Apax Partners boss, who now divides his time between social investment, property management and the Middle East peace process, has written a book about entrepreneurialism called 'The Second Bounce of the Ball'. MT caught up with the City grandee to find out what compelled him to put pen to paper (or finger to keyboard, technically).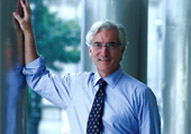 In 2005 Sir Ronald Cohen left Apax Partners, the private equity firm he had founded and led for 30 years. Now running Bridges Ventures, a social investment firm, and the Portland Trust, a charity that promotes peace in the Middle East, he's also found time to write a new book called 'The Second Bounce of the Ball' (Weidenfeld & Nicholson, 304pp, £20), which aims to show entrepreneurs how to succeed.
MT: Sir Ronald, you spent 30 years at Apax – do you miss it?
I must say, I've not missed it at all. Partly because I focused on the succession as being a real challenge to pull off, so I left with a sense that I'd achieved that as well as building a business. But there were other things I wanted to do: to develop Bridges into a major organisation and push the concept of social investment as a new asset class; to get more involved in the management of my own assets; to develop the Portland Trust, and to write a book. So in some ways, I left for even bigger challenges.
MT: What was the thinking behind this book?
I wanted to show that being an entrepreneur is not about opportunism: there are rules to being successful, and these rules can be learnt. However, they've not been analysed in any of the books I've seen. So I wanted to show the road to be travelled; to set out the fundamentals of entrepreneurial strategy as it applies to the choice of opportunity, the building up of a management team, raising finance and creating opportunities through networking.