Books Special: Steve Tappin tells us a secret
And it's a big one for all ambitious MTers: how to be a CEO, and what life is like in the corner office...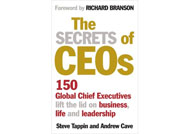 Happily enough, a brand new book – launched last night – tackles this very subject, in impressively comprehensive fashion if the unexpurgated title is to be believed: The Secrets of CEOS – 150 Global Chief Executives lift the lid on business, life and leadership. Luminaries like Terry Leahy, Martin Sorrell, James Murdoch and Alexey Mordashov are name-checked on the jacket, with the remaining 146 leading men and women having to make do with an appearance within the covers. That's a lot of C-suite horsepower, however you slice it.
The book – written by Heidrick & Struggles headhunter Steve Tappin and financial journalist Andrew Cave – ranges far and wide over its high-altitude territory, taking in everything from the impact of globalisation and the credit crunch to Web 3.0 and sustainability. It also offers a useful five-class taxonomy of CEO types, complete with big-name examples. Leahy is a commercial executor, Sorrell is a corporate entrepreneur, and so on. Tappin and Cave's stated aim is to get as much real-world 'experience' into the book, and they certainly do that. The quote-rate in these chapters is correspondingly high but can feel a little relentless at times, occasionally leaving the reader wondering exactly what point is being made.
There is a thought-provoking peek at what the future of corporate leadership might be, and the qualities that leaders in waiting should be cultivating. The authors' premise in this section is that the old command and control model is dead and should be replaced by a devolved 'cellular' organisation. It's a timely and constructive concept along similar lines to those suggested by Gary Hamel in his latest work The Future of Management (there are certainly worse footsteps they could have chosen to follow in).