Books of the Year: The inspiring and the informative
Social enterprise, stress and sporting prowess - all feature in the best reads of the past 12 months, says Mind Gym boss Octavius Black.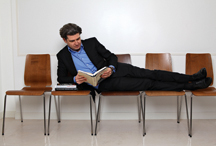 Four books, each in different ways, have inspired and informed my leadership of The Mind Gym over the past year.
Paul Tough's Whatever it Takes tells the story of the Harlem Children's Zone, a project set up by the remarkable social entrepreneur Geoffrey Canada to transform the lives of children from one of the most deprived parts of the US. At the launch of his charter school (like one of Britain's free schools), Mr Canada an-nounces: 'We are calling our school Promise Academy because we are making a promise to all of our parents. If your child is in our school, we will guarantee that your child succeeds. There will be no excuses.' It's a promise that he delivers by giving as much attention to the power of parenting as to the force of great schooling.
My proudest achievement this year has been the launch of Parent Gym, a programme to improve parenting skills in deprived areas. The four pilots produced amazing results, enticing the Mayor of London, Boris Johnson, to attend the launch of the rollout in Southwark. The example of the Harlem Children's Zone proves how vital it is to educate parents in order to change the life chances of those people most in need.