Books of the Year: Of villains, speculators and weird science
Consultant Jennifer Harris talks us through her top books of 2010, from the Big Short to Jilly Cooper...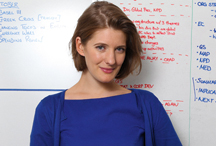 I was 15 when I read my first real business book and I remember thinking how well it compared to the Jilly Cooper novels that were required reading at the time. The book was Michael Lewis's Liar's Poker, a kiss-and-tell of City debauchery in the 1980s, which was and remains a compulsive read. So I had high expectations of Lewis's latest book, The Big Short, and, true to form, it's another classic.
The Big Short provides a vivid account of the recent housing and credit bubble, as seen through the eyes of a handful of speculators, and the weird and wonderful characters at the centre of this book distinguish it from the many economic essays on the recent crisis.
Take Dr Michael Burry, the one-eyed neurologist with Asperger's profiled by Lewis, who says of himself that his 'nature is not to have friends'. Burry had developed the highly unusual habit of reading subprime mortgage bond prospectuses from cover to cover, which helped him to confirm that something strange was happening in the mortgage market. Having dropped out of medicine to raise a fund, he took a bold short position in the subprime market in 2005.