Bookshelf: Coffee, anyone?
The story of Starbucks' huge commercial success is hidden amid a morass of vapid anecdote and turgid detail.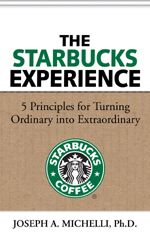 As they say in the US, we've read this book so you don't have to. And in this case, we're doing you a big favour. The Starbucks Experience was clearly written with the full cooperation of its subject, but even so I don't think I have ever read anything quite so fawning. Not even Daily Mail editorial leaders on the day that victory was declared by Britain in the Falklands War come close. No, this book reads like a love letter from a 14-year-old girl to the lead singer of a boy band.
I'd hoped for something better. The dust jacket boasts that "for the first time an outsider has been given full access to the Starbucks experience". But, as soon becomes clear, Joseph A Michelli, PhD, is about as much of an outsider as the editor of Pravda under Brezhnev. He uses his 'full access' to ask all the difficult questions, such as: "What's it like to be successful - and fantastic too?" and "No, really, why are you so great?", although curiously for all his much-vaunted 'in', many of his quotes from the top brass come secondhand from online publications.
Michelli kicks off by telling us that before our towns and cities were Starbucked, pretty much all coffee was awful and those who served it were rude and surly. Luckily, St Arbucks was there to rescue us from this percolated purgatory and has ministered abundantly to the world ever since with the very finest latte money can buy. Here, I found myself wondering if the author had ever visited any other sort of coffee shop. If he had been to, say, a decent independent outfit, it might have crossed his mind that as Starbucks is the biggest coffee chain in the world, so KFC is the biggest chicken chain in the world. It might also explain why, although the stores were supposedly inspired by Milanese coffee bars, there is not a single Starbucks in Italy, the most coffee-conscious nation on earth.