Boots pays £1.5bn dividend to new owners
The credit crunch has made the last few months a bit of a struggle for the big private equity firms, but at least one seems to have played its cards right. After buying Alliance Boots this summer, KKR and partner Stefano Pessina not only managed to raise all the debt they needed; they also paid themselves a £1.55bn dividend within weeks of taking control.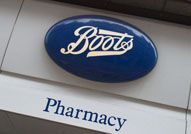 Hidden away in a fairly uninspiring stock exchange statement on Friday, the retailer said that it paid out an interim dividend to shareholders of £1bn on 6 August 2007, and then another one of £550m on 20 August 2007. That was on profits of just over £500m for the six months to September.
News of the dividend is unlikely to go down well with the unions, who spent most of the summer moaning about the 'private equity piranhas' lining their expensively-clad pockets at Boots' expense.
But it does show how successfully KKR seems to have side-stepped the bloodbath in the financial markets with this deal. The debt financing package of about £8bn was arranged just before the credit crunch hit, so it was the banks that were left holding the baby when the market dried up (having failed to sell it on at a decent price at the time, they're now expected to have another go in the new year).