Booze Britain to sober up with pricier liquor
Government ministers will announce plans today to introduce a minimum price-per-unit on alcohol in shops, in an attempt to tackle Britain's boozing problem.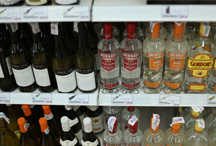 Alcoholic drinks companies could be on the verge of getting mildly hammered, as proposals to slap a 45p-per-unit minimum price on all alcohol enter the consultation phase today. The proposal to apply a minimum price-per-unit was first tabled in March of this year. It would be a set-back for drinks producers, although this is a considerably better deal than they are getting in Scotland, where plans for a charge of 50p are making headway.
David Cameron is behind the move, having voiced his concern that alcohol can be 'cheaper than water'. But the proposals do not have universal support in government, with Cabinet members Andrew Lansley and Michael Gove warning that the minimum price may not work. Critics suggest that applying the minimum price would simply cost drinks companies a lot of money, but not be enough to deter people. Not to mention that it would tend to mitigate unfairly against the poor: if you can afford a £30 bottle of claret, you're unlikely to be as badly affected as somebody who prefers the more affordable stuff. Furthermore, the plans will not affect the price of pints in pubs – but as everyone knows, that is already a much more expensive way to transport yourself to a less austere place.
The consultation is also expected to consider other ways of tackling alcohol abuse in the UK, such as limiting or regulating the use of so-called 'multi-buy' deals, which make booze cheaper in larger amounts. Other practices, such as selling alcohol as a loss leader to get people into the shop, have resulted in cans of lager retailing at as little as 20p, and two-litre bottles of cider for less than £2. These will no doubt be under the magnifying glass during the consultation, too.