Boris: 'Heathrow is chocka, it's rammed, it's bursting at the seams'
The Mayor of London took to the stage at the CBI Conference to shout loudly about airport capacity.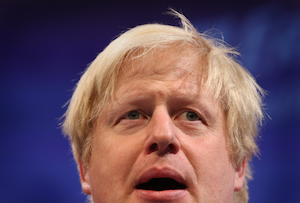 'This speech was inspired by a dream,' blustered the mayor of London, Boris Johnson as he burst onto the stage at the CBI conference, 15 minutes late and hair askew. His Lutheran entrance was followed by a 30 minute rant about airport capacity, the need for a hub and the stiff competition we're facing from Europe. It was punctuated by comparisons of flightpath noises for the audience - designed, we're sure, to put them right off a third runway.

'Aviation is of vital importance and a major barrier to growth and the key issues are in danger of being confused,' he argued.

'We need to make London and the UK attractive for busy people.'

He went on to describe a most terrible experience he had recently while trying to fly from Heathrow to China (replete with his usual historical references) – one he believes could damage the UK's business and tourism trade should it continue to happen.

'Heathrow staff are performing Napoleonic feats everyday – running at 95% capacity,' he said.

'I was grounded at Terminal 5 because of how busy Heathrow was and as a result, we were 90 minutes late for Beijing. Delays are a cause of irritation...eventually rage,' he added.

All of these annoyances are putting us in danger of losing out to our European counterparts on business with emerging economies, according to the Mayor.

'Frankfurt has twice as many seats on twice as many flights to China,' he argued. 'Paris, Amsterdam and Frankfurt have all powered ahead while Heathrow has gone backwards.'

A third runway, however, would be out of the question.

'Heathrow is the biggest inflicter of noise pollution misery in Europe.'
(It's also presumably further away from Boris' Islington home than an east London hub would be.)

Nobody at the event was left wondering about what Boris' preference for increasing capacity is – that was all covered by his 'dream'.

'I dreamt I flew into a new runway hub airport, built to the highest environmental standards, an airport cunningly located by the sea...bringing fantastic growth to the economy. The previously sceptical public had been won around and best of all, I saw a colossal piece of infrastructure designed by British architects...built by British engineers and contractors and done in less than five years.'

Well, the man is entitled to his dreams...