Boris Johnson has 'a bit of an Eddie Mair'
In what is doubtless his most damaging interview to date, Boris Johnson's reputation was eviscerated this Sunday by the softly-spoken (and lethal) Eddie Mair: 'Making up quotes, lying to your party leader, wanting to be a part of somebody getting beaten up... You're a nasty piece of work, aren't you?'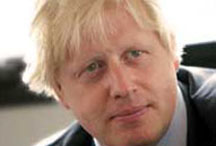 Mayor of London Boris Johnson was expecting a walk in the park on BBC 1's Andrew Marr show yesterday. Firstly, Marr is still off sick, recovering from a stroke, so a stand-in interviewer had to be provided in the man of Eddie Mair. Who'd have predicted that this last-minute replacement, with his lilting Scottish brogue, would turn out to be even more sharp-tongued than Marr.
The interview started off innocuously enough: talking about immigration and the West Ham stadium deal. But then Mair gets to the juicy stuff. 'I want to talk about you, ' he says. 'Well, that's just what I would like to avoid,' responds Johnson. And then it begins: a succession of hard-hitting questions, inspired by the forthcoming Michael Cockerell documentary for BBC2 - which Mair has seen but Johnson has not, and claims to show a corrupt, unwholesome side to the Latin-spouting, jovial, self-styled buffoon.
The material seems pretty damning. Evidence of Johnson's extra-marital goings on, which he then lies about to his party leader at the time Michael Howard. The fact that he was fired from The Times for making up quotes, 'I merely sandpapered,' whines Johnson. And, Mair's shocking finale. The fact that Johnson was willing to share the home address and contact details of a journalist to his old friend Darius Guppy, who wanted to beat him up: 'the phrase 'broken ribs' was bandied around,' says Mair.