Boris Johnson accuses PM of being 'bewitched' by BAA
An airport hub to rival the might of Heathrow should be built in Stansted or the Thames Estuary immediately, says Mayor Boris Johnson. But he is diametrically opposed to a third runway at Heathrow. 'I say to BAA and BA, forget it. It will not be built. No mayor of London could conceivably accept it,' he said.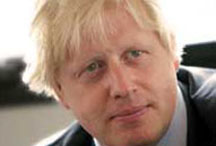 Mayor Boris Johnson has renewed his attack on government for delaying the introduction of new UK runways. Plenty of evidence already exists to support the creation of a new airport capacity in the south-east, he says. There is no need to wait three more years for the verdict of the Howard Davies report.
But Johnson is very specific on the sites he deems acceptible for the new runways. Stansted and the Thames Estuary are fine, he says, but told The Guardian that Cameron will be 'tiptoeing towards a political electric fence' if he gives in to lobbying from BA and BAA and chooses Heathrow. David Cameron has been 'bewitched' by airline lobbyists, he says.
Likening himself to an 'aeronautical Bill Cash' (the legendary Tory eurosceptic) Johnson vowed to keep fighting for Londoners. 'The risk of inertia is huge,' he says. 'But there is a huge prize if we can get on with it now.'