Boris Johnson takes a punt on crowdfunding
The London mayor is putting £25m into a new co-investment fund to support London's tech startups.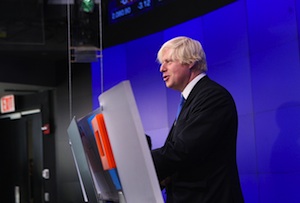 Boris Johnson has said he wants London's technology sector to compete on the same level as the likes of Silicon Valley, and today he put some of his (well, our) money where his mouth is. The mayor is putting £25m into a new London co-investment fund, which will be invested alongside private cash into new businesses working in digital, science or technology.
The £25m will de distributed via six private sector partners including two VC firms, three angel syndicates and the crowdfunding platform Crowdcube over the next three years. For every £1 invested from the mayor's Growing Places Fund, the partners will be obliged to invest or secure investment of at least £1, with a target of an £2.90 on average.
Applicants will be expected to go through the usual process of showing they can generate a good return for investors and that the money will help them create jobs. It's hoped the fund will result in one investment each week and a total of more than £80m of funding for London's tech sector.