Bottles drawn in beer battles
It's Miller time for Grolsch. The Dutch beer company has been bought by SAB Miller, the world's second-largest brewer, for £585m – the latest shake-up in what is becoming a potentially explosive sector.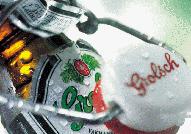 SAB Miller had previously been denied the rights to brew rival Dutch brand Amstel under licence in South Africa, a setback that it said would hit profits by £40m over two years. With the purchase of Grolsch, SAB Miller will have a premium historical European brand with which to plug the gap. But it has also expressed plans to sell Grolsch across Africa and Latin America, emerging markets that are of increasing importance to brewers seeking to bolster beer sales across Western Europe (which, contrary to our own empirical research, have been in decline).
SAB Miller has also been touted as a possible buyer for Scottish & Newcastle, the Edinburgh-based brewer currently trying to keep rival suitors Heineken and Carlsberg away from its kegs. S&N has been urging shareholders to ignore their 750p-a-share takeover proposal, and has now emphasised the performance of BBH, its Russian joint-venture with Carlsberg (are you keeping up?), at the centre of the bar-brawl. S&N is arguing that the Heineken-Carlsberg bid undervalues it by highlighting the growth potential at BBH. Carlsberg, unsurprisingly, has said the opposite.

But with SAB Miller confirming that the Grolsch deal would 'not change anything else we might want to do', S&N's fortunes remain intriguingly open. SAB Miller added it could still spend between £1.5bn and £2.5bn and remain within 'comfortable' financial limits. Whatever happens, the protagonists may well need to sit down and enjoy a quiet pint once the dust settles.