The Bourn Profligacy
'Quis custodes ipsos custodiet?' Roman satirist Juvenal, the author of this famous epigram, liked to poke fun at the excesses of the city's feckless rich. He would have had a field day with the National Audit Office's Sir John Bourn.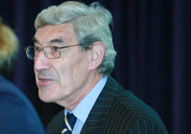 Bourn is the NAO's auditor-general, which means he is the man in charge of the public purse – responsible for monitoring the government's expenditure on services.
Unfortunately, his expense account shows no sign of a commitment to frugality. The NAO admitted yesterday that Bourn has spent a whopping £365,000 of taxpayers' money on first-class travel overseas in the last three years, plus a hefty £27,000 dining out in London's finest (and priciest) restaurants. He has also been enjoying the hospitality of large defence contractors and accounting firms.
Who'd have thought being comptroller would be so much fun?