BP: A crude joke?
There's something typically British about a company that messes up the simple task of making money from oil. BP's profits slumped 45% in the third quarter and still managed to beat analysts' bleak expectations, and this at a time when oil prices are breaking records and costing $90 a barrel.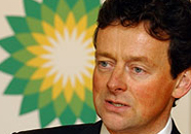 The figures make things look pretty disastrous. Replacement cost profit for the period still stood at a princely $3.87bn, but that's down from $6.97bn last year. And the drop was hardly unexpected. Especially as last month chief exec Tony Hayward warmed to his new role by warning that BP's performance in the quarter had been 'dreadful'.

Profits were hit by a slew of well publicised problems such as a squeeze on refining margins, driven by the shutdown's at its Texas City and Whiting refineries, as well as falling US natural gas prices and operational delays in flagship projects such as Atlantis and the Thunder Horse platform.

Hayward has said he hoped the worst would be put behind BP as revenues come on stream in the fourth quarter. But with a raft of job cuts on the way, as he chops out the dead wood of the Lord Browne era and attempts to land the reputation as the man who turned BP around, one suspects his BP experience will become blacker and stickier before it turns to gold.