BP fails to light up as profits drop to $13.4bn
The oil giant is feeling the pinch as it slims down its assets and margins narrow.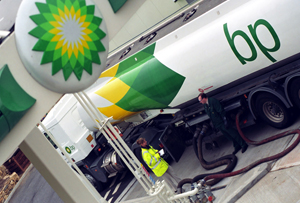 - Read MT's interview with former BP boss Lord Browne from October's magazine
BP's profits fell during the fourth quarter of 2013 and the whole year as the oil giant continued to feel the effects of its brutal slimming regime, having shed billions of dollars worth of assets to pay out for the Deepwater Horizon oil spill and been muscled out of its Russian joint venture.

Underlying replacement cost profit, which excludes the effect of asset sales and oil price fluctuations, was $13.4bn (£8.2bn) in 2013, compared with $17.1bn the previous year.

The measure was down to $2.8bn in the fourth quarter compared with $3.9bn in 2012, but just ahead of the $2.7bn analysts estimated. BP blamed lost income from those never-to-be-seen-again assets, weaker refining margins and exploration write-offs for the drain in profits.

BP, the third-largest energy company in the world, has sold off a whopping $38bn of assets since the Deepwater Horizon oil rig exploded in the Gulf of Mexico in 2010. The company said in October that it plans to sell a further $10bn by the end of 2015, and has agreed the sale of another $1.7bn to date. The provision for the spill also edged up by $200m to $42.7bn in the quarter. That's despite a US judge having tightened the rules around claims against it relating to the spill. Ouch.

As recompense to shareholders for its hardcore asset diet, BP embarked on an $8bn share buy-back binge last March, and said it has bought around $6.8bn so far. The company's fourth quarter dividend was also plumped up, rising 5.6% from 2012 to 9.5 cents per share.

'Capital discipline is central to BP's strategy; making the right investment choices, sticking to our capital limits, and actively managing our portfolio in pursuit of long-term value,' said BP's chief exec Bob Dudley.

Shareholders are still a bit starved though, as the US' shale gas revolution pushes down energy prices, and shares were down more than 1.5% in mid-morning trading.

However, the oil major said there was 'strong growth' in production in 'key regions such as the North Sea, Angola and Gulf of Mexico'. They added, '2013 was BP's most successful year for exploration drilling for almost a decade.'

Another bright spot was Russia, after BP was effectively muscled out of its TNK-BP joint venture by Rosneft at the end of 2012, in return for $17bn and a 19.75% stake in the majority state-owned company. Underlying net income from Rosneft was $1.1bn in the fourth quarter, compared to $0.2bn from TNK-BP the previous year.

BP might also take heart as its rivals similarly struggle with falling prices and rising costs. Shell's new chief exec issued a shock profit warning a couple of weeks ago, barely a month into the job, and has halted the company's controversial Arctic drilling programme. Cold comfort indeed for BP.