BP gets 'the punishment it deserves' for Deepwater Horizon spill
The oil giant has agreed a $20.8bn settlement with the US government.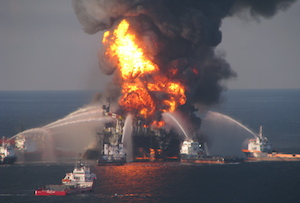 Five years after the Deepwater Horizon spill, the dark, oily sheen swirling around BP may finally be starting to clear. The US justice department announced the oil giant was finally getting 'the punishment it deserves' – fines totalling $20.8bn (£13.7bn), the largest settlement with a single entity in its history.
It comes three months after BP announced it would be paying $18.7bn to the US federal government and five states, but what's a couple of billion between friends? At the time, it said the settlement would add $10bn to the $43.8bn it had already set aside to cover the April 2010 disaster, in which 11 people died and more than 3 million barrels of oil spilled into the Gulf of Mexico over a three-month period.
'BP is receiving the punishment it deserves, while also providing critical compensation for the injuries it caused to the environment and the economy of the Gulf region,' US attorney general Loretta Lynch said in a statement last night. 'The steep penalty should inspire BP and its peers to take every measure necessary to ensure that nothing like this can ever happen again.'