BP records forecast-busting $10bn profits
Any guesses as to how BP managed to deliver a 148% rise in profits last quarter?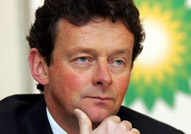 BP said this morning that its replacement cost profits in the third quarter totalled $10bn, a 148% increase on last year's figure of $4bn (and more than $3bn higher than the previous quarter). CEO Tony Hayward admitted that the soaring price of oil, which touched $147 during the period, had 'obviously helped our absolute result' – but insisted that these bumper profits were also proof that his turnaround strategy was working. But we're not convinced this will save BP from the inevitable public backlash over profiteering oil companies…
Of course, this summer was a good time to be in the oil business (not that there ever seems to be a bad time), as the price crept ever-nearer the $150/barrel mark. So BP would have to have been pretty incompetent not to enjoy a profits surge. Still, this $10bn figure seems to have impressed analysts, who weren't expecting BP to do quite this well. Its profits are now up 54% for the year to date, while it's also producing slightly more oil than last year, despite the disruption caused by storms in the Gulf of Mexico, the war in Georgia, and the bad-tempered spat with the Russian authorities over joint venture TNK-BP (which finally seems to be resolved).
But Hayward insisted that BP's success wasn't all down to the oil price. 'This should not obscure very real operational improvements in refining and rigorous cost control across the company that kept our cash costs essentially flat compared with last year - despite immense inflationary pressures in the sector,' he said today. He also said that his restructuring programme – a euphemistic way of referring to his cull of unnecessary middle management – was continuing apace, cutting costs further. As a result, he's upped BP's dividend by a whopping 64%.