BP sets the markets alight as revenues rise $4bn
The company has had a tough few years, but its third quarter results suggest things are finally looking up.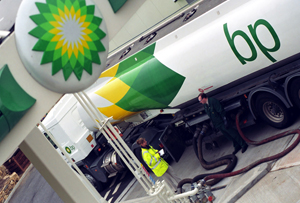 - Read MT's interview with former BP boss Lord Browne from this month's mag
BP boss Bob Dudley must be a happy man this morning: the share price for the until-recently-quite-embattled company rose more than 5% this morning after it reported third quarter revenues had risen from $94bn (£58.4bn) last year to $98bn. Investors are a fickle bunch: the company also increased dividend payments by 5.6%. Cue schoolgirl-style giggling (probably) from the markets.

Of course, all this is partly to do with the fact that after three and a half years, BP has finally shaken off the shackles of Deepwater Horizon. Alright, so admittedly its forecast of the total cost of the spill has risen slightly to $42.5bn, but this month the company won a legal battle to prevent a court in New Orleans from compensating businesses that had not experienced 'actual injury traceable to loss' from the disaster. So that cost should stop rising very shortly.

And the company said it was continuing to slim down: it's looking decidedly svelte, having shed $38bn of assets over the past three years, but it wants to sell off another $10bn by the end of 2015. Who needs Weightwatchers when you have shareholders?

Underlying replacement cost profit, the oil industry's favourite measure of performance, rose during the quarter from $2.7bn to $3.7bn. That's down from last year's figure of $5bn, but still beat analyst forecasts, which were about $3.2bn.

Average selling price per barrel rose, from $99 to $100.66, while net debt dropped from $31bn to $20bn. Underlying production also rose 3.4% before the impact of divestments, which BP said was to do with 'clement' weather in the Gulf of Mexico (although it still isn't necessarily a popular neighbour…).

To make shareholders even happier, the company said the $8bn share buyback programme it announced earlier this year was going well: so far it's spent $3.8bn. And Dudley was keen to assure them that despite its new, slender look, BP is still investing in new projects: 'we expect BP's capital spending in 2014 to remain around the level expected for this year, in the range of $24bn to $25bn.'

So a reasonably good quarter for a company which hasn't had much to brag about over the past few years.