BP shares soar after 50% drop in profits
Yes, you read that right - BP's profits may be way down on last year, but they're much better than expected.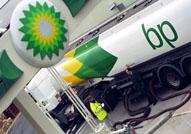 It seems a bit odd describing the last quarter as a good one for oil giant BP, given that its replacement profits of $4.98bn were less than half the figure recorded this time last year. But with the subsequent fall in the oil price, that was always going to happen; in fact, today's figure came as a very pleasant surprise to the City, hence the 5% share price bump this morning. With a massive new oil find in the Gulf of Mexico, its troublesome Russian joint venture starting to come up trumps, and a boardroom shake-up imminent, things could be a lot worse for BP...

It hasn't been an easy few months for BP, by any means - the falling oil price has hit sales hard, while CEO Tony Hayward has been ploughing ahead with a big $3bn cost-cutting drive that must have been pretty painful for the company's staff. On the plus side, oil and gas production was actually up 7%, because there were no pesky hurricanes in the Gulf of Mexico to close its plants down. And better still, it has just made a 'giant' new discovery in the region - the new well Tiber (which is a massive 10km deep) can apparently keep the US in gas-guzzlers for an entire year.

There was also good news from Russia, where net income at joint venture TNK-BP jumped by a third. This JV has been a real headache for BP, which got into a huge row with its Russian shareholders over how the operation was being run. But the departure of CEO Robert Dudley seems to have calmed the waters, and it's now starting to realise its potential as a cash cow.

Internally, things seem to be getting back on track too. Hayward's cost-cutting drive is now expected to save about $4bn this year, a hefty $1bn more than expected (though you do wonder how a company can find an extra $1bn it didn't even know was there). And reports suggest that incoming chairman Carl-Henric Svanberg, who arrives in January, is planning to rejuvenate the board with a string of new non-execs.

Of course, the biggest influence on BP's profits is always going to be the oil price - it apparently makes an extra $400m in profit for every dollar rise. And the outlook on that front isn't quite clear: expectations of a global recovery have been pushing prices upwards, but some analysts argue that prices will soon be falling again since there's no underlying reason for the rise. But if BP is unlikely to be chalking up $10bn profits any time soon, it does at least seem to be getting its house in order after a fairly chaotic couple of years.

In today's bulletin:
BP shares soar after 50% drop in profits
Barratt has a bee in its bonnet over Royal Mail strikes
Editor's blog: What to make of Warren Buffett?
Is Twitter and Facebook use costing UK plc dear?
Secretaries still getting a raw deal