Brand YSL a runway success
Fashion designer Yves Saint Laurent may be no more, but his world-famous brand will live on...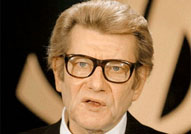 The legendary French designer, who is widely credited with revolutionising women's fashion during the 1960s and 70s, died on Sunday night in Paris after finally succumbing to illness. He'd been living as a virtual recluse since retiring in 2002, but the outpouring of emotion today after the announcement of his death shows just how influential he was within the fashion world.
His main cultural legacy, judging by the various obituaries today, will be his abiding impact on women's fashion. His radical new styles – which included trouser suits, safari jackets and tuxedos – changed the way that women dressed forever, reflecting a more confident and powerful image. Former partner Pierre Bergé, who revealed the news of the designer's death, told France Info radio: 'Chanel gave women freedom. Yves Saint Laurent gave them power.' A trouser suit may not seem like a big deal, but he probably did more to encourage greater equality in the workplace than many a highfalutin corporate initiative…
But we shouldn't under-estimate his business legacy either. The most obvious element of this is his eponymous YSL brand, which he built from nothing into an international multi-million pound business – even taking it public in the late 1980s with huge success. Sadly, it all went pear-shaped later on. Absorbed into the French state-owned group Elf Sanofi in the early 1990s, it was bought by rival Gucci in 1999 for $1bn – and as part of the deal, Saint Laurent (along with Berge) sold off all his rights to the brand. Although he stayed on for a while to run the haute couture label, he's apparently regretted this decision ever since.