Branson hides his assets
In the game of pass-the-toxic-parcel with Northern Rock, the Government has decided to play hardball.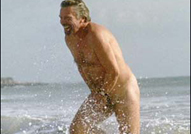 While acknowledging that Virgin's bid is ahead of that proferred by the Rock's own management, the PM himself has let it be known that he is, after all, willing to take the hit of nationalising the stricken outfit. Virgin has been told that it will have to come up with more cash if it is going to be allowed to carry off the dubious prize.

In the meantime, a sideshow is developing with the increasingly acrimonious spat between Branson and the Liberal Democrats. Branson has come under fire from the doggedly impressive Lib Dem Treasury spokesman Vince Cable who has deep misgivings about Old Beardie and his 'lack of transparency', which Cable says could jeopardise the £50bn of taxpayers' loans and guarantees. Cable is principally worried that Branson will make his move on the bank using offshore vehicles to dodge scrutiny and avoid tax.

Branson has form a mile long when it comes to keeping the location of his money pots arcane. He is also famous for allowing others to provide the hard cash in commercial endeavours whereas he contributes the brand values. A few years back The Economist put a couple of its bloodhounds onto the Virgin trail in attempt to sniff out where all the money trails led. They emerged from the undergrowth after months scratching their heads and produced an information graphic which left all onlookers totally baffled.

Vince Cable has requested Branson meet his team and the party leader, Nick Clegg, for a 'clear the air' session. Maybe they could pop over to Necker, Branson's Caribbean island for a tete a tete over a Mojito. MT says it's good to hear no-nonsense Gordon may be the new bank manager. That would enable him to cancel the helpless Rock shirt sponsorship deal with Newcastle United – the team may as well have a big L tatooed on their foreheads.