Branson lifts his kilt in a cocksure dig at BA
Richard Branson is back with another hilarious/tacky PR stunt. The Virgin billionaire flashed his undercrackers, emblazoned with the words 'stiff competition', to launch Virgin's new 'Little Red' routes to Scotland - and put the wind up rival BA.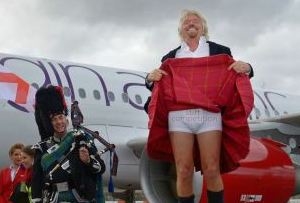 You'd think that Beardy was a little long in the tooth to flash his pants to the world but the Virgin entrepreneur has proved (yet again) that he plans to grow old disgracefully, using his crotch as an advertising space for new venture Little Red.
Branson stepped off the plane in Edinburgh after Little Red's inaugural flight to Scotland yesterday wearing a traditional kilt, which he promptly lifted to the astonishment of onlookers to reveal a not-so-traditional pair of pants bearing the slogan, 'stiff competition'.
'I've got to the age where it is wise to always wear something under my kilt- especially in weather like this,' he said, adding, 'we are delighted that we managed to pick up these slots as it means we can offer stiff competition to British Airway.'