Branson MRSA warning Virgin on the self-serving?
Sir Richard Branson has called for more action on MRSA in the NHS. If only Virgin was running the show...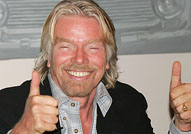 Sir Richard Branson wants all NHS staff to be screened (and if necessary, treated) for MRSA, arguing that this is the only way to bring down infection rates. Although these have actually been falling in recent years, Branson reckons the Government has merely 'tinkered with the problem' rather than getting to the heart of it, and insists that more needs to be done. It's a noble cause – but we can't help feeling that as the boss of Virgin Healthcare, an alternative healthcare provider, Branson isn't exactly an impartial witness…
Sir Richard reckons the health service could learn a lot from the airline and rail industries (wonder why he picked those two?) about how to avoid mistakes. And he makes the perfectly valid point that despite recent improvements, one in 10 UK patients still suffers from hospital bugs like MRSA and C.difficile. 'There have been some improvements, but the facts are still horrific. Hospitals are there to cure people; they are not there to kill people,' Ol' Beardy told the BBC, in one of history's less controversial statements. Routine screening of NHS staff, and sacking managers who fail to enforce hygiene standards, would bring about a huge improvement, he said.
This is probably true – but unfortunately, testing on such a large scale would cost time and money, and the NHS has very little of either going spare. A British Medical Association spokesman told the BBC that the idea wasn't terribly practical: 'This proposal will cost a great deal of money and risk further reductions in the number of health professionals available to treat patients at a time when we are critically short of staff and beds.' The government will also argue that its crusade against infections does seem to be working: cases of MRSA and C.difficile are down 33% and 38% respectively in the last year, while MRSA infections have halved in the last five years.