Branson prescribes 'bullsh*t and charm' for entrepreneurial success
The entrepreneur imparted some pearls of wisdom at the launch of Virgin Startup. Don't try (all of) this at home, kids.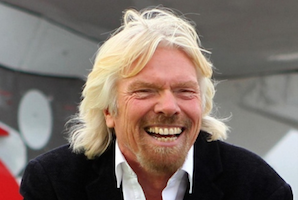 Those who believe becoming a successful entrepreneur boils down to a good idea and years of hard work would do well to listen up. Richard Branson, one of the UK's most celebrated entrepreneurs, has added something else into the mix – achieving your goals takes, 'drive, determination, belief in what you're creating, bullsh*t and charm,' he told The Telegraph.

Those familiar with Branson's wide grin and luscious locks may not be too shocked to hear he puts some of his success down to his lion-like allure. You may be slightly more surprised to hear some of his earlier breaks came thanks to a good old-fashioned scam.

'I worked out that if you rang up the operator and said you'd put money in they would put you through,' he said. 'It was like having a free secretary. I avoided the 'Pip, pip, pip' when I needed to call Coca-Cola to sell advertising.'

Free calls eh? We wonder how he'd feel about budding entrepreneurs scrimping on their Virgin Media bills?

Richard has launched Virgin Startup in a bid to give the UK's entrepreneurs financial support, advice and mentoring – presumably going beyond the wise words, 'be charming'.

'For most start-up businesses there is a thin dividing line between survival and failure,' he said.

'I hope that Virgin StartUp will make that dividing line a little bit thicker and give people a better chance.'

Speaking at the launch event (at the epicentre of 'pop-up cool' that is Shoreditch's Box Park), Branson spoke of his own struggles in the past, dealing with his dyslexia and coming close to failure on a number of occasions.

'I'm dyslexic and I didn't know the difference between gross and [net] profit till I was 50 years old,' he said. 'I was once in a board meeting and didn't know if it was good or bad news about some profit figures.

'Having a really good university education or having a mathematical degree is not important in running a business.'

Inspiring words from the Bearded One.