Breaking up is hard to do (profitably)
Good entrepreneurs can turn the most unpromising situation to their advantage - and that includes break-ups...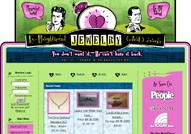 Very few of us can resist a good bit of schadenfreude every now and then – there's something quite life-affirming about the misfortunes of strangers – but not many of us have thought of using it as the basis of a business model. So we were impressed to see www.exboyfriendjewelry.com, a website dreamed up by 30-year-old Megahn Perry. Subtitled: 'You don't want it. He can't have it back', the site allows women to sell off their jewellery and other unwanted gifts from ex-lovers and husbands. The idea is that it's more personal than your average online auction site and less daunting than a pawnshop.
On the face of it, tearful break-ups don't sound like fertile ground for an entrepreneurial venture. But the clever thing about this site is that it not only provides a practical solution to an age-old problem (we've all had that 'who gets to keep the limited-edition Westlife CD' conversation, right?) but it also encourages sellers to explain why they're selling the item - so jilted lovers have the catharsis of spouting off about their former flings while cashing in on those painful reminders. It's the perfect way to get over a break-up - and if they start feeling guilty, they can even donate some of the proceeds to a 'Good Karma Fund'. This is a business that knows its target market...
It also means that all the jewellery on the site (which ranges from a $30 freshwater pearl necklace a $4,500 platinum wedding set) comes with confessions like 'his love was never-ending – as long as I stayed a size 4' or 'I was young and in love – what the hell was I thinking?' There's also a 'Gifts That Should Have Been Jewelry' section, which includes everything from designer handbags ('Two years and all I have to show for it are expensive gifts') to sunglasses ('They're his'). You don't often get that on eBay - we reckon people will be logging on just to read the comments...