Bremner does Peston
You know you're living in strange times when business journalists become fodder for impressionists...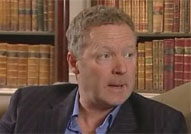 Generally speaking, the financial crisis of the last year hasn't done most of our career prospects much good. But there are some notable exceptions – for instance, the BBC's business editor (and former MT columnist) Robert Peston. Last year he was a relatively obscure financial journalist, largely unknown to anyone outside the industry. Now, after breaking the Northern Rock collapse and a string of other high-profile stories, he's become so famous that Rory Bremner's doing impressions of him.
In a interview with the BBC, Bremner broke off from his usual Clinton/ Bush/ Blair/ Brown routine to reveal the extraordinary news that he's become 'obsessed' with Peston – who's apparently going to feature heavily in Bremner's new series in September. 'I'm reading my children stories late at night and I turn into him,' says Bremner.
Even if you're not normally a Bremner fan, we think you might enjoy his version of Peston doing Peter Rabbit – it's about three minutes into this clip on the BBC website.