Bridging the gender divide in the workplace
A survey suggests there are genuine differences between the way men and women perceive work.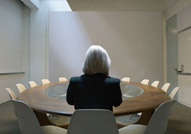 Not everyone is convinced by the theory – propagated quite often lately, in the wake of the financial crisis – that there are fundamental differences between men and women's attitudes in the workplace. But a recent survey by consultancy A&DC does appear to lend weight to the theory: it found that women really do place a higher value on choice, diplomacy and contentedness, while men are more likely to be ambitious, proactive and direct. Which makes us wonder: if men and women want such different things out of their job, how is an organisation supposed to create a culture that appeals to both equally?

The question is relevant because the research was done to coincide with the launch of A&DC's catchily-named Cultural Alignment Indicator, a tool that helps companies understand what their culture is really like (as opposed to what it says in their glossy corporate brochures). And the salient point was that men and women did seem to feel differently about what a 'good place to work' actually means. The data suggest that more women value choice, while more men value simplicity; more women value practical training, while more men value academic study; more women value diplomacy, while more men value directness; more men value ambition, while more women value contentedness. So perhaps the stereotypes exist for a good reason.

Now we should stress that this sample was relatively small: just 300 people (so far). And even if the basic results ring true, it doesn't mean there aren't any ambitious, direct women, or, by the same token, practically-minded diplomatic men – it just means they're likely to be in the minority, and thus (presumably) harder to find. As far as A&DC is concerned, this makes it all the more important for organisations to understand what their culture is really like, because otherwise, you won't know if you're attracting and retaining the right kind of people. Equally, it's better for staff to know one way or the other – if the culture doesn't suit them, they can go somewhere else that does (easier said than done at the moment, admittedly).

If nothing else, this study serves as a reminder of just how difficult it is for firms – particularly big firms – to create and maintain any kind of consistent culture. And if you do decide on something, and (for instance) adopt the perfectly understandable approach of recruiting ambitious young thrusters, it turns out you might be biasing your organisation against women. Gosh it's hard work running a business...

In today's bulletin:
Supreme Court backs banks in overdraft charges row
Hurrah! Recession not (quite) as bad as thought
Red-faced Tesco feels the pain of the business cycle
Bridging the gender divide in the workplace
A Life of Enterprise: A love game